Rugby union's global governing body has hired bankers to prepare a potentially radical shake-up that could include selling a stake in the World Cup's commercial rights.
Sky News has learnt that World Rugby has appointed Jefferies and Rothschild to handle a review of its options for securing new funds that would be ploughed into under-represented areas of the sport.
Sources said on Tuesday that World Rugby, which last month named Alan Gilpin as its chief executive, would examine a range of financing and media partnerships.
These, they said, would include talks with private equity firms and sovereign wealth funds about acquiring a stake likely to be valued at hundreds of millions of pounds in the commercial rights to the Rugby World Cup.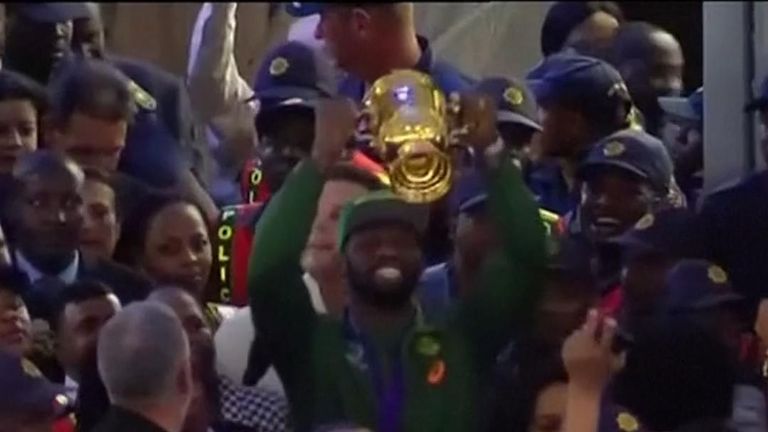 The next men's tournament will take place in France in 2023.
Any deal to sell a minority stake in the commercial arm of rugby union's most important event would accelerate a seismic overhaul of one of the world's most popular sports.
Lord Davies of Abersoch, the former Standard Chartered chairman and one-time UK trade minister, is playing a key role in the strategic review in his capacity as a World Rugby independent non-executive director.
World Rugby, which is chaired by the former England captain, Sir Bill Beaumont, has told its bankers that no options were off the table after a year in which the sport's finances have been decimated by the pandemic.
The governing body also owns the rights to international Sevens rugby, the world series of which is sponsored by HSBC.
Any proceeds from the sale of an equity stake in a new commercial entity which held the commercial rights to the Men's and Women's Rugby World Cups would be reinvested in the sport, according to insiders.
World Rugby's plans come amid a deluge of private capital being invested in the world's top sporting events, associations and teams.
Confirmation in recent days of plans for a European football Super League featuring 20 of the Continent's top clubs have highlighted the political and reputational risks associated with such reforms.
Rugby union has already begun to see an injection of substantial sums of private capital, largely through CVC Capital Partners' investments in Premiership Rugby, Pro-14 and, most recently, the Six Nations Championship.
If CVC completes an investment in South African rugby which represents the next stage of its global blueprint, it will preside over stakes in the commercial interests of seven of the world's most important rugby union-playing countries.
CVC is expected to be a leading contender to invest in any World Rugby properties that become open to third-party investment, according to insiders.
Another likely candidate is Silver Lake, the US-based private equity firm which – as Sky News revealed earlier this year – is in…