To get John Authers' newsletter delivered directly to your inbox, sign up here.
It's my job, and that of any responsible investor, to spend a lot of time thinking about what could possibly go wrong. That is still a long list, and includes plenty of nasty possibilities nobody is thinking about. For example, not too many people were worried at the beginning of this weekend that Belarus would force a Ryanair tourist plane down so that it could arrest a 26-year-old journalist who was among the passengers.
Once we concede that the state of the world is indeed truly lamentable, we can then move on swiftly to a plethora of data that suggest things are getting better all the time. Most important, of course, is the coronavirus.
Newly reported cases give us good leading indicators. And globally, they have fallen since a terrifying peak last month. It is too soon to declare victory, but the current trend is encouraging: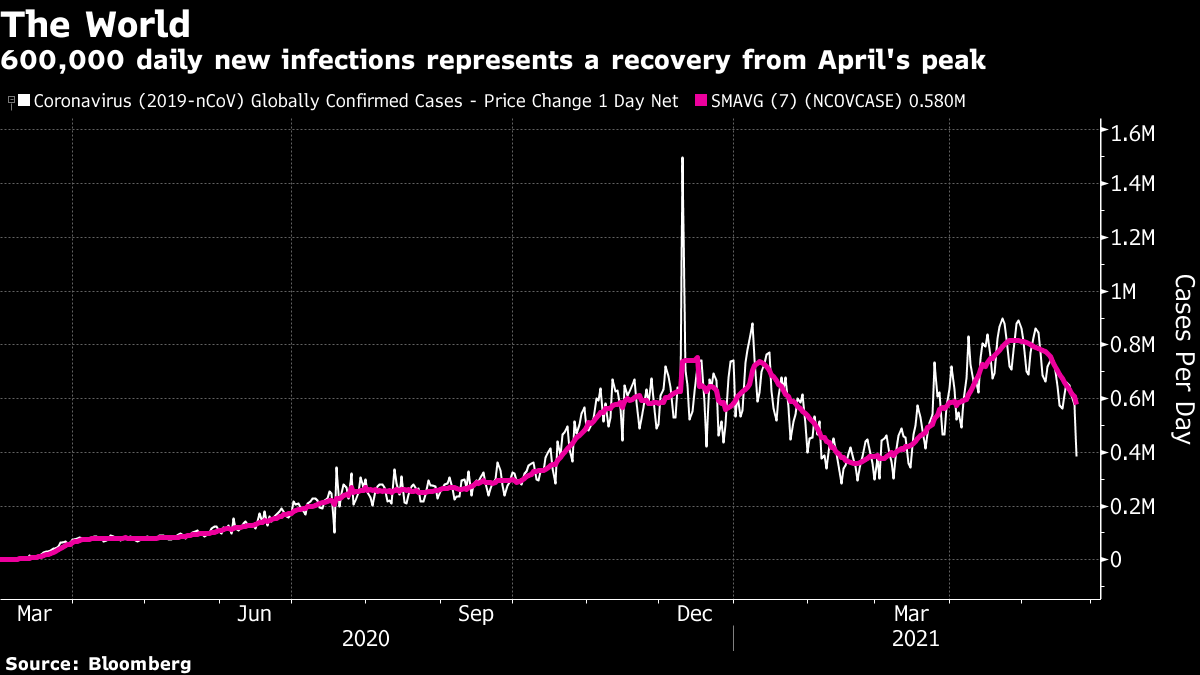 Meanwhile, the developed world's laggard is catching up. The European Union suffered a nasty new wave of cases in early spring. The trend is now emphatically lower as its vaccine rollout gathers pace: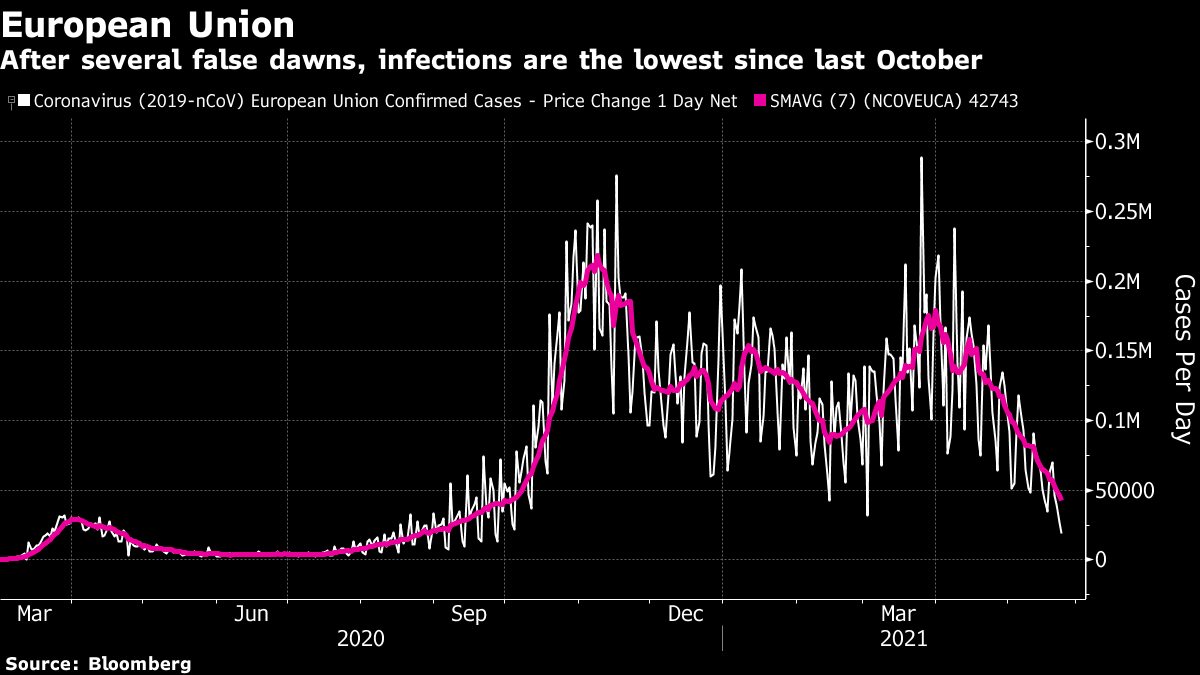 In India, gripped by the worst Covid outbreak to have happened anywhere, the latest trend is very encouraging. It looks as though that outbreak has peaked, even if the number of people falling ill remains appallingly high: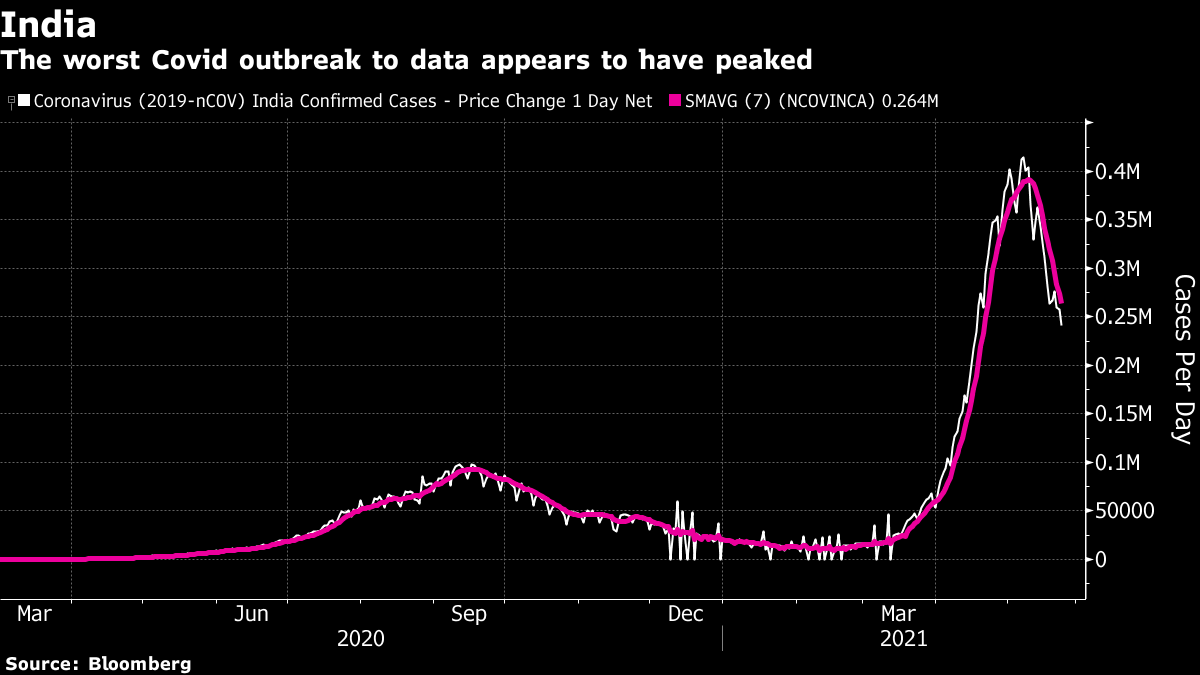 As for the U.S., the trend in new infections remains clearly downward, even if the disease is still far from being eradicated: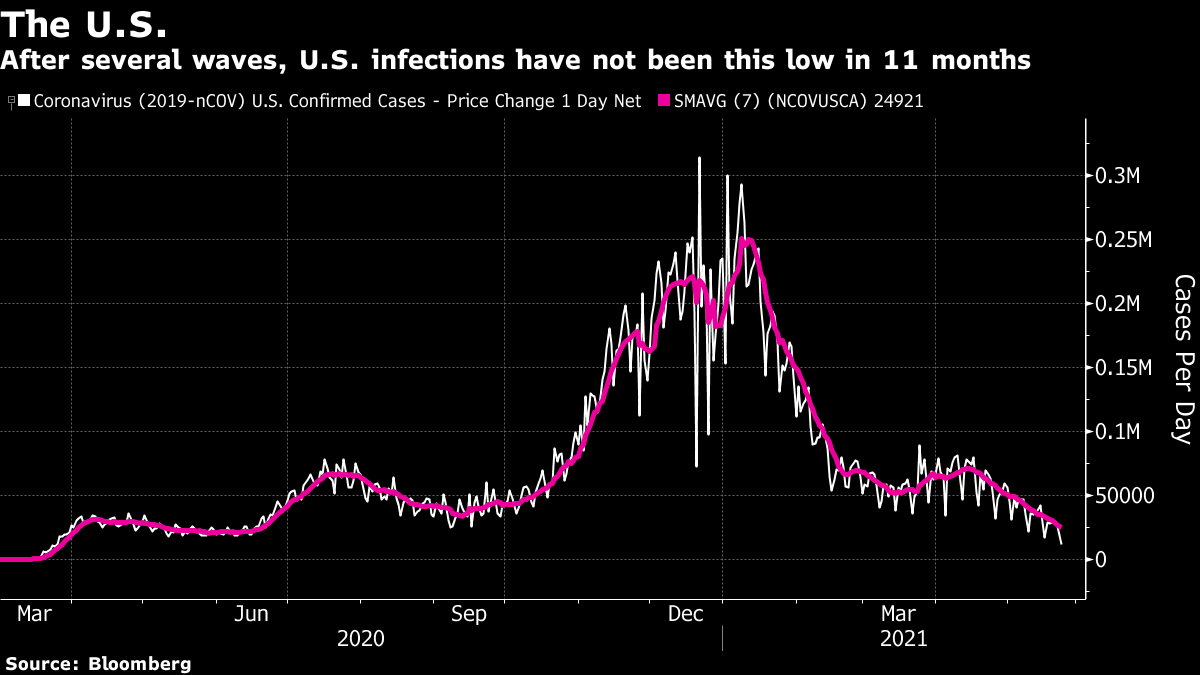 Britain, hit by the first significant variant of Covid but then the first big country to roll out the vaccine into the population, the disease also appears to be under control (although it hasn't been eradicated):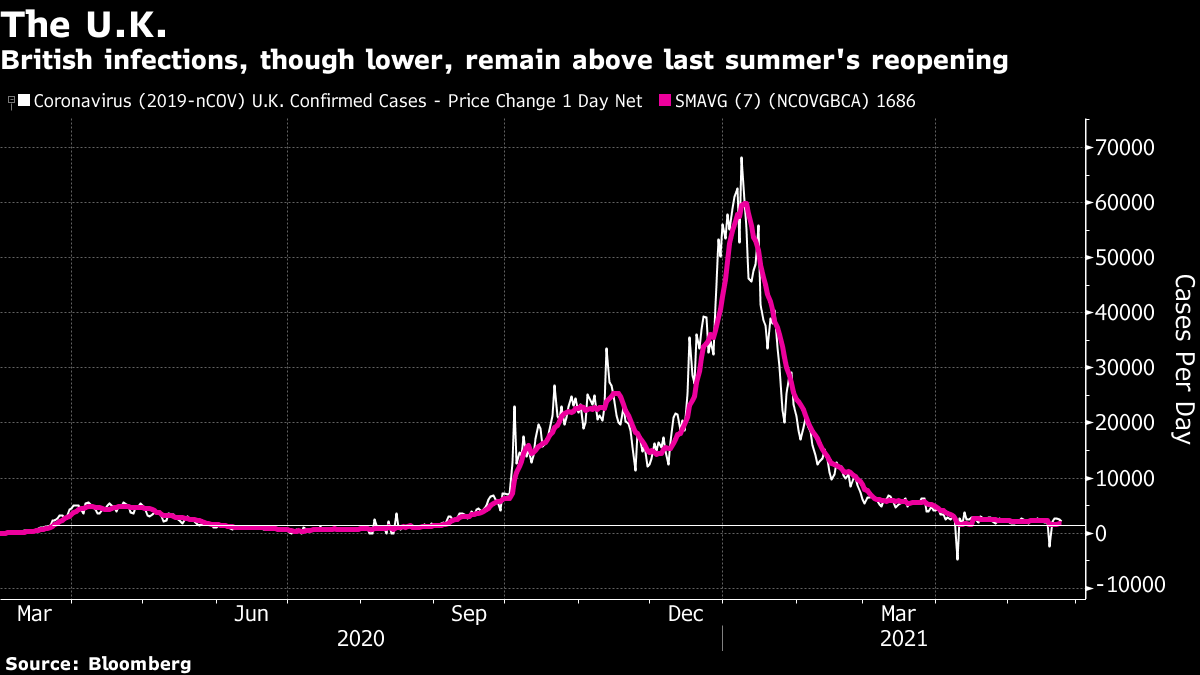 For one discordant note, Taiwan is in the grip of its first outbreak. That said, note the scale on this chart; its worst day to date has seen 700 new cases, a tiny number compared to the pain endured in other countries: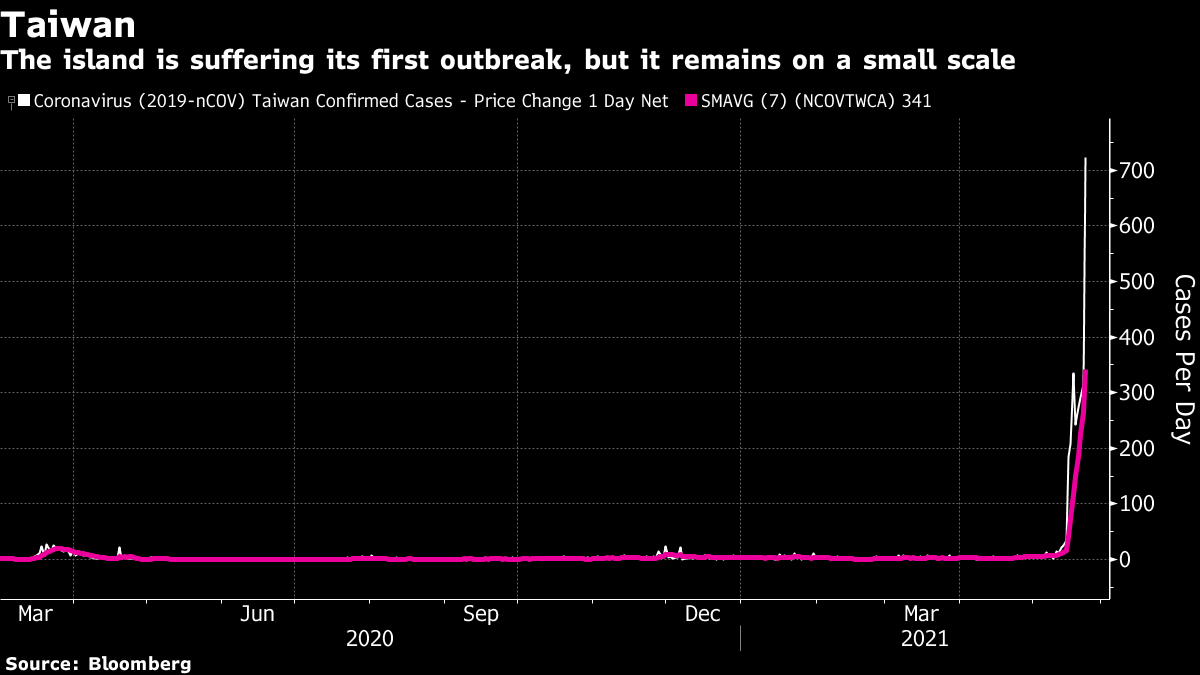 These charts give rise to continuing caution. There have been plenty of unpleasant surprises from the pandemic already. For two great accounts of how swiftly countries can move from appearing to have the answer to suffering a dreadful outbreak, try pieces by Niall Ferguson for Bloomberg Opinion and Morgan Stanley Inc.'s Ruchir Sharma for the Financial Times. But there's still no denying that the news is on balance good.
For investors, this raises the question of price. Is too much recovery and too much good news already in the prices of assets most affected? In the case of some companies with most to gain from economic reopening, it doesn't look as though the market is ahead of itself. The S&P 1500 hotels, cruise lines and resorts and airlines sectors remain 30% behind the market since the end of 2019, and have given ground in the last few weeks. From the point of view of whether the market has come too far, this is good news: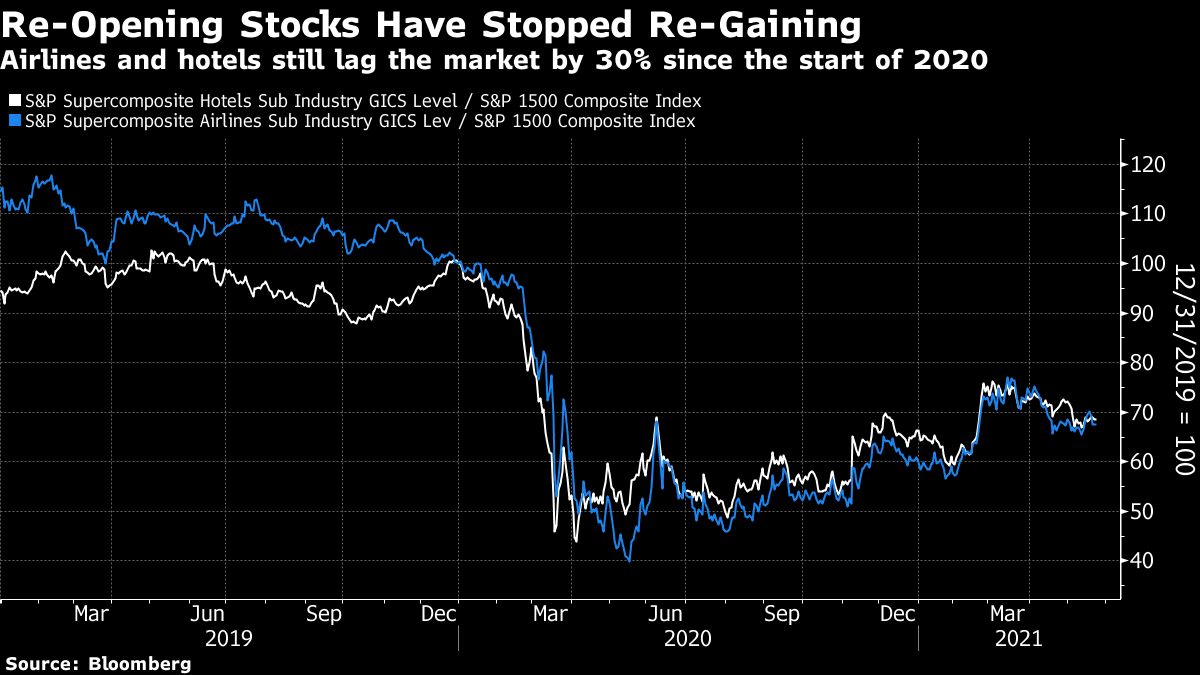 Against this, I would be remiss if I didn't reprint the standard reminder that the stock market is absurdly expensive in historical terms, and very dependent on continuing low bond yields. The following chart is from the website of Yale University's Robert Shiller and shows his latest calculation for the cyclically adjusted price-earnings multiple, which compares prices to average real earnings over the previous 10 years. At 37, it is now far more expensive than at any time other than the top months of the dot-com bubble. As for long-term interest rates, they are at historically very low levels, but have come up in the last few months. Even when compared to bonds, this market no longer looks particularly cheap: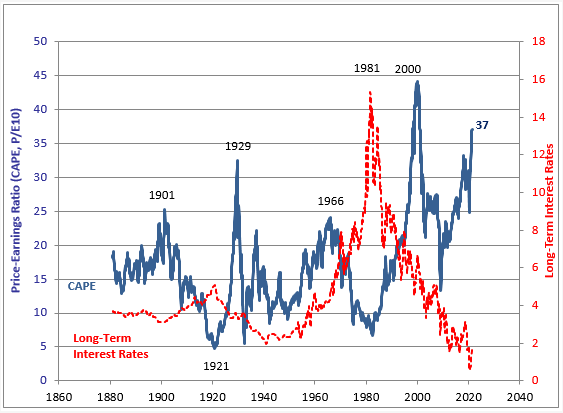 Beyond the stock market, what of credit? Last spring, it made sense to fear a broad solvency crisis, as companies went into bankruptcy. The exceptionally aggressive action by central banks, followed now by a steady recovery from the pandemic, has put those concerns to rest. But if we look at Bloomberg's index of the yields on U.S. "high"-yield debt (a dubious term these days) we find them at stunning historic lows: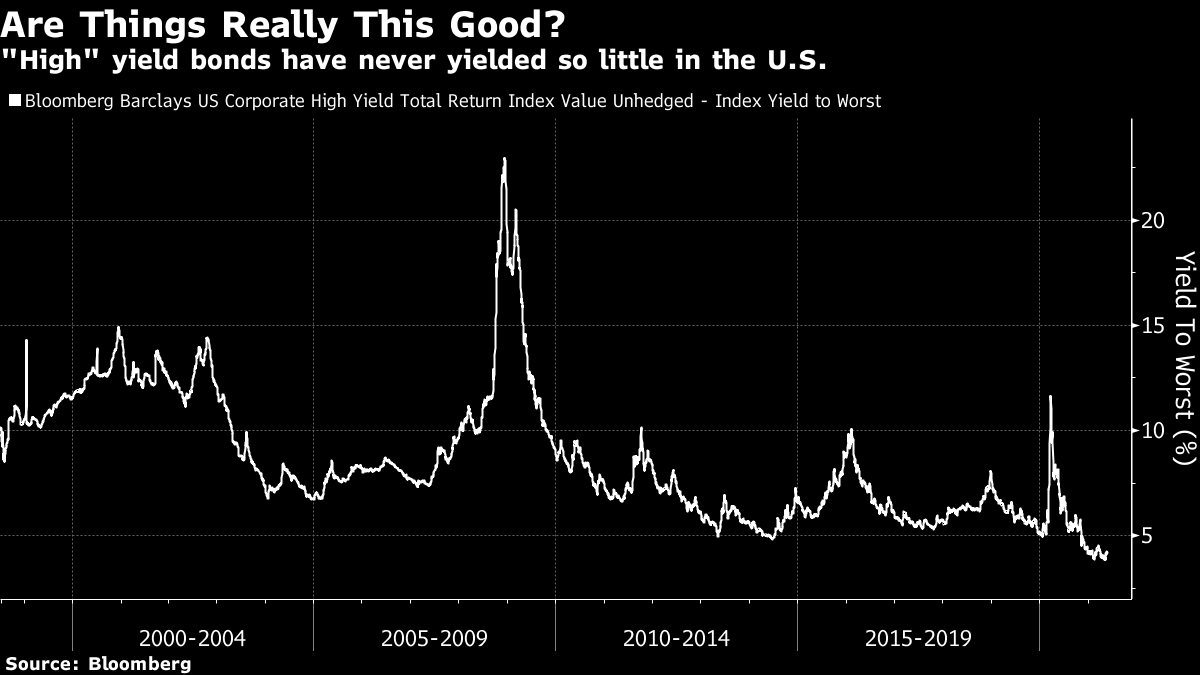 That is alarming. It also appears to be well ahead of reality on the ground. The following charts are from Credit Benchmark, which culls opinions from 40,000 different analysts. For U.S. industrials, credit quality is improving for the third month in a row: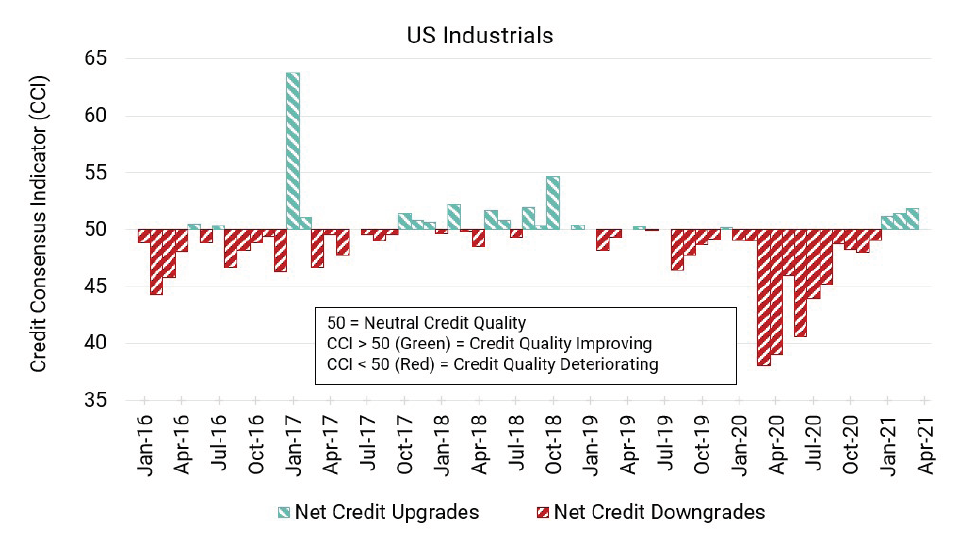 U.K. industrials have also seen a sharp upgrade in credit quality — indeed, this is perceived by credit analysts as their most positive month since the Brexit referendum, almost five years ago: 
Meanwhile, in the EU, credit opinion was exactly neutral according to Credit Benchmark's survey last month. This in itself is an improvement: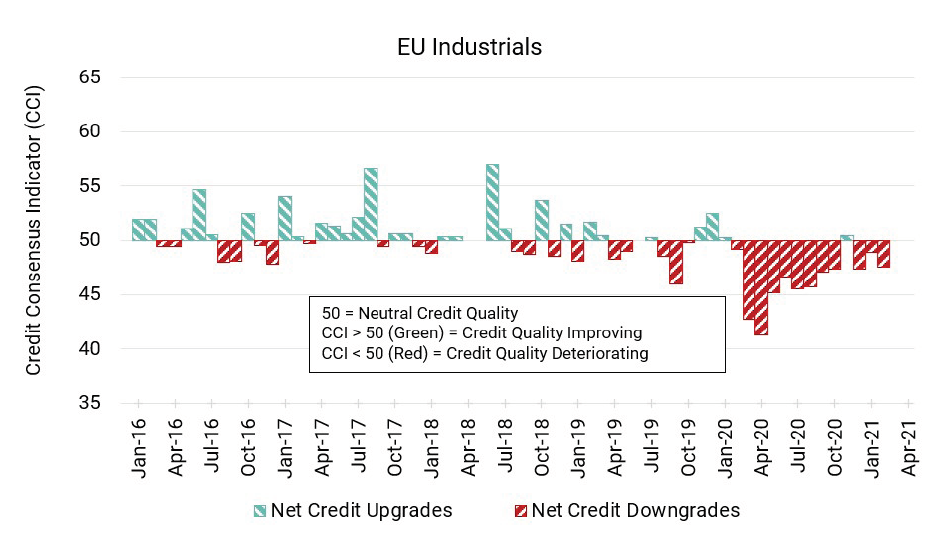 In credit as in stocks, the good news from the fight against the virus has created a level of justified optimism. The current direction of travel seems to be justified. What remains far harder to discern is whether the incredible valuations of both credit and equity can possibly sustained if central bank support were to be removed. That issue doesn't go away. But the issue of disease is, indeed, getting better, and for that we can all be thankful.
A Bitcoin Weekend
If you haven't been paying attention to the world of cryptocurrency over the weekend, then in a sense you didn't have to. At the time of writing, bitcoin's price in dollars is much where it was on Friday evening. But you would have missed a 19% dive, and a 14% rally from the bottom: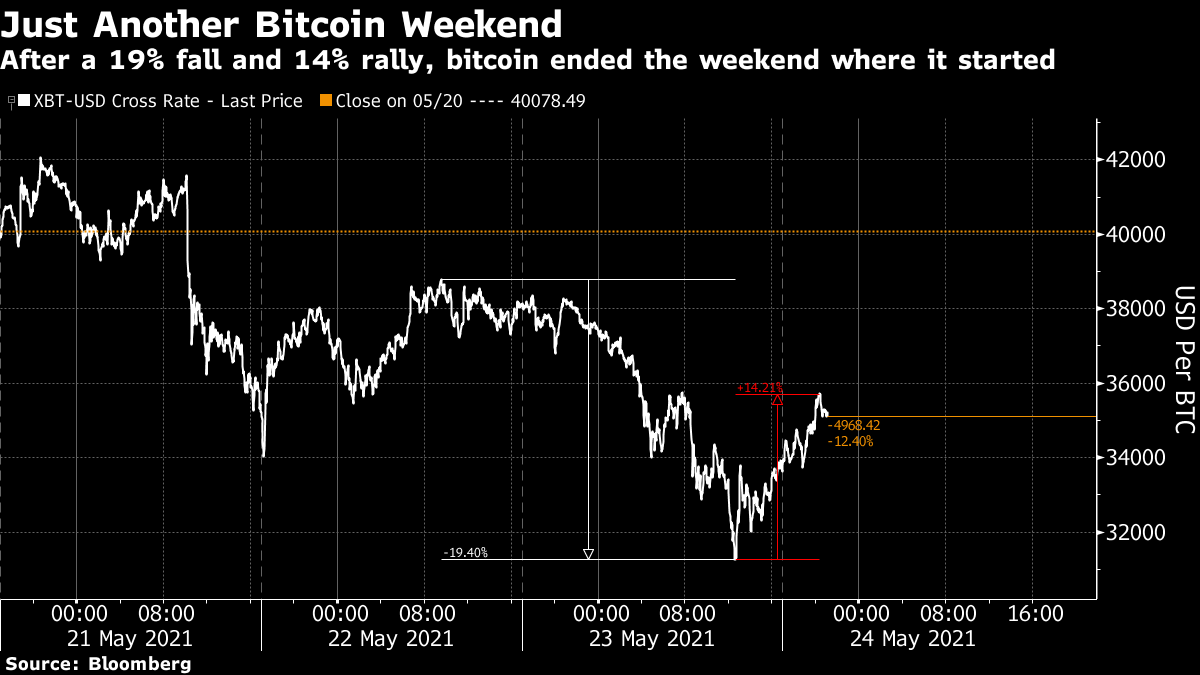 It continues to be hard to see how volatility on this scale can be consistent with the claim of bitcoin supporters that it is an asset ready to supplant fiat currencies. It's conceivable such a moment could come, but it plainly hasn't arrived yet.
As the job of replacing fiat currency is naturally going to be a long one, if even possible, it might be fairer to ask whether the cryptocurrency infrastructure has shown itself capable of dealing with an eruption of volatility like this one. Bitcoin's distributed technology, with no weight falling on any central exchange, is after all one of its great appeals. The fact that it suffered a flash crash, of the kind experienced a few times in recent years by established exchanges, and never — on this scale — in the foreign-exchange markets, is a bad sign. The fact that some well-known trading platforms offering to trade bitcoin suffered outages during the heaviest selling is an even worse sign.
Against this, there is the argument from Bloomberg Opinion colleague Jim Bianco that the crash was a big win for cryptocurrencies. This is counterintuitve, to put it mildly, but he bases his argument on decentralization. It should be no surprise that the same platforms that fail investors with conventional assets were also unable to deal with heavy volume in crypto, he contends. But the decentralized venues that are arguably the whole point of bitcoin survived fine:
Recognizing that most are not familiar with decentralized finance, or DeFi, details are in order. DeFi does not use an order book like regulated exchanges. Instead, it has over 72,000 liquidity pools. Anyone can be a liquidity provider to these pools or even start one and earn interest (more coins) for their effort. Traders use these liquidity pools to trade cryptos. The entire protocol is run by computer code called an automatic market maker. No humans are involved in the trading on these exchanges.
That is impressive. But while the system kept functioning, the price of transacting did go up dramatically. The following chart from ethereumprice.org, sent to me by a reader, shows the movement of "gas" prices in gweis, a denomination of the cryptocurrency ether. Its performance so far this year makes bitcoin look sedate by comparison, gaining 460% and then shedding half. Gas is the cost necessary to perform a transaction on the ethereum network: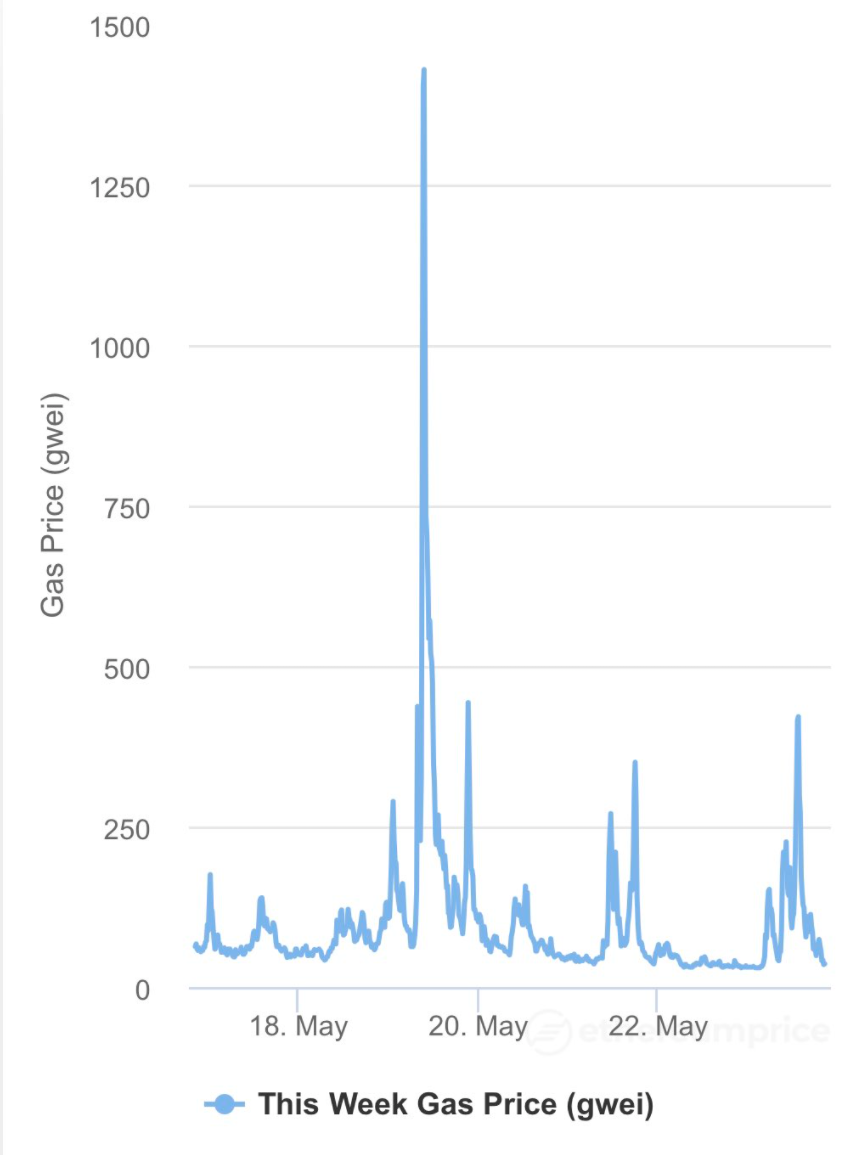 So the network did survive the intense volatility, but the sheer amount of computational activity needed to keep everything afloat meant that the cost of using that network rose sharply. It's important that it worked, from the point of view of those trying to prove that the crypto concept is viable; even so, the fact that it required so much effort suggests that the concept needs a lot of work. 
Cue outraged responses…
Survival Tips
I missed the Eurovision song contest. My wife is happy about this. As far as I can make out, this year's winner again seems to suggest that this ludicrous celebration of everything camp and kitsch still somehow says something relevant about the society in which we live. Here is Italy's winning entry: It's called Zitti e Buoni by a band called Maneskin, and it sounds rather good to me. For a translation, try this. Eurovision also managed to reflect deepening inequality, with four countries getting zero points from the public. Britain came last, which no doubt served us right. Rather than dwell on that, here is my favorite song to get nul points at Eurovision, Norway's entry Mil Etter Mil from 1978; and my favorite ever Eurovision cover, Arcade Fire's version of Poupee de Cire, Poupee de Son. Have a good week, everyone.
To contact the editor responsible for this story:
Matthew Brooker at mbrooker1@bloomberg.net


Read More: Market Optimism Is Justified by Covid Fight. Prices, Not So Much

2021-05-24 04:17:00