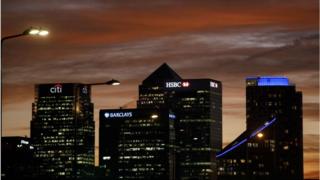 Recently the share prices of the UK's largest banks have collapsed, in common with those of many other companies.
Banks such as RBS, Barclays and HSBC have seen their share price fall to levels not seen since the 2008 financial crisis.
Some market-watchers suspect the sellers know something we don't, but others suggest the banks are in fact much stronger compared with 12 years ago.
The Bank of England has said the banks should be strong enough to weather a 30% contraction in the UK economy.
But someone who would have liked the banks to have been stronger entering the crisis is Sir John Vickers, the man who was charged with constructing a safety plan for Britain's banks in the wake of the financial crisis.
"The global effort to reform the banks after the crisis of 2008 did a number of good things but I generally think of it as a job half done," he told the BBC.
Sir John has spoken out before on the topic after recommending banks have considerably more capital.
Capital is the amount by which a firm's assets exceeds its liabilities – such as its customer deposits. When liabilities are higher, the company is technically insolvent. For banks, it's important capital is available to absorb surprise losses from bad loans. The more a bank has, the more punishment it can withstand without outside help.
Banks periodically tell investors how much capital they have, when they report profit and other figures, but critics say it's not an up-to-date measure.
Some, including Durham University Professor Kevin Dowd and former Bank of England regulator Dean Buckner, say the most appropriate capital measure is a market value one, which is based on banks' share prices.
This is calculated by multiplying the number of shares in issue by the current share price. They prefer this measure because share prices are an up-to-date reflection of what investors think a company is worth, whereas the banks' reported figures are not.
In a report earlier this month, the pair suggest that using the banks' market prices on 1 May, every £100 of bank assets, such as loans, is supported by an average of just £2.73 of capital…


Read More: Are Britain's banks strong enough for coronavirus?