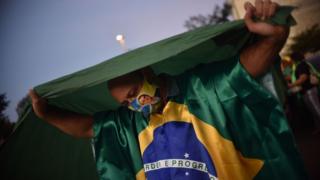 Brazil's handling of the pandemic has turned highly political.
The country has swiftly risen up the grim leader board of coronavirus statistics and its death toll – 41,828 – is now the world's second highest.
The Americas account for around half of the number of cases globally. Brazil, Latin America's biggest country, is now the epicentre of the epicentre.
But its leader still seems to care very little – or at least that is the impression he is happy to portray.
From the outset, President Jair Bolsonaro has played down the virus. Early on in the crisis, he went on TV several times, calling it a little flu and accusing the media of hysteria.
He has not scheduled a television address for a while, perhaps not wanting to be drowned out by the din of pot-banging protesters on their balconies intent on making their anger over his leadership heard.
But in the absence of the public broadcasts, the public display of irreverence continues, even as his people bury their dead in mass graves in the Amazon and hospitals in some parts are verging on collapse.
When questioned about the death toll in April, Mr Bolsonaro brushed it off saying "I'm not a grave-digger". A week or so later, he was asked for a comment when Brazil overtook China's death toll, to which he responded "So what?".
Coronavirus in Brazil
The country has now the world's second-highest death toll, overtaking the UK
It has confirmed 828,810 cases, according to the health ministry
That is the second-highest total globally, behind only the US
But the numbers are thought to be much higher because of insufficient testing
The outbreak in the country is thought to be weeks away from its peak
Economy over health
His message has remained the same throughout – that the state governors have been reckless in introducing quarantine measures and the collateral damage to the economy will be worse than the effects of the virus itself.
"His whole strategy is very clear," says Oliver Stuenkel, Professor of International Relations at the Getulio Vargas Foundation in São Paulo.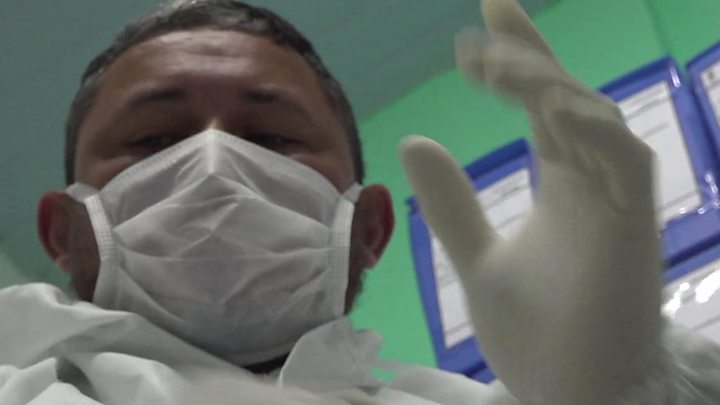 "He doesn't want to be seen as the person…


Read More: Coronavirus: How pandemic turned political in Brazil