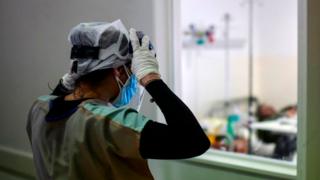 South America is the new epicentre of the global coronavirus pandemic, but the region's leaders have responded to the crisis very differently.
A great deal has been said about poverty in this part of the world, like the favelas in Brazil where social distancing is hard to achieve and where basic sanitation is not always a given.
There is also the fact that there are so many millions of unregistered workers who rely on earning money every day to put food on the table for their families.
The impossible choice that many people have told me they face is to risk starving or risk getting Covid-19.
There are, undoubtedly, massive challenges in this, one of the most unequal parts of the world. But, say many experts, politics is just as important as poverty.
"I always defended – as many of us in public health did – the importance of having strong, structured health systems," says Deisy Ventura, professor of Global Health Ethics at the University of Sao Paulo.
"But if there's one thing I have learned from the pandemic it's the importance of politics – for good and bad."
Unity in Argentina
Professor Ventura singles out Argentina. Leading a country already deep in economic crisis, President Alberto Fernandez, who has been in power for less than a year, locked down swiftly when the virus hit.
The country has registered just over 90,000 cases and 1,720 people have died.
"It's an extremely divided country, it's been through a very intense political crisis but those adversaries were able to sit around the table and come to an agreement over the necessities of quarantine measures," says Professor Ventura.


Read More: Coronavirus: Why politics means success or failure in South America