A bout of volatility returned to financial markets with a vengeance last week, disrupting what had been a nearly uninterrupted climb to records for U.S. stock indexes and raising questions about the path for Wall Street headed into a hornet's nest of challenges.
Perhaps, the overarching question is, "What the heck just happened to equity markets in the 48 hours after the S&P 500 index
SPX,
+0.05%
and Nasdaq Composite Index
COMP,
-0.60%
on Wednesday notched their 22nd and 43rd closing records of 2020 respectively, and the Dow
DJIA,
+0.47%
scored its first finish above 29,000 since February, bringing it within 2% of its Feb. 12 all-time closing high?"
The bull perspective
From the bull's perspective, not a lot has changed.
Bullish investors see the promise of lower interest rates for years to come and further injections of money by the Federal Reserve into various parts of the financial system, along with perhaps another fiscal stimulus from the government, as buttressing the market and offering a floor against future dramatic losses.
Optimists see the slump that the equity market experienced this week as a bump in the road to greater gains.
"Since the current bull market kicked off in March, there have only been two pullbacks of more than 5%. Recent bull markets have tended to have three or four setbacks over the first nine months," wrote SunTrust Advisory chief market strategist Keith Lerner in a research note on Thursday — see chart: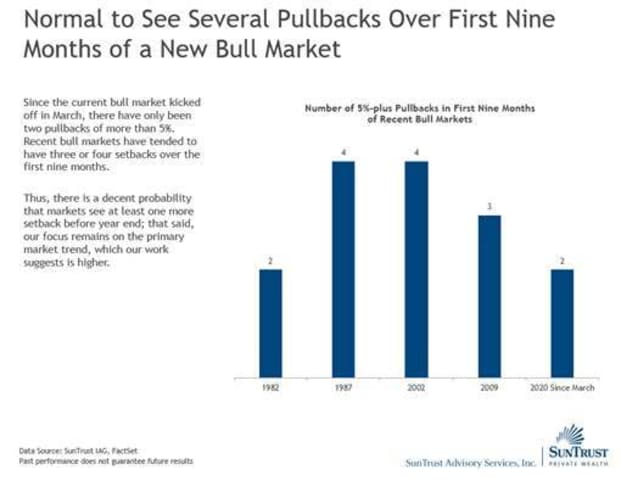 Lerner also notes that the five-month winning streak for the S&P 500 since August, which has only occurred 27 times since 1950, is a good sign because it tends to imply that further returns are ahead.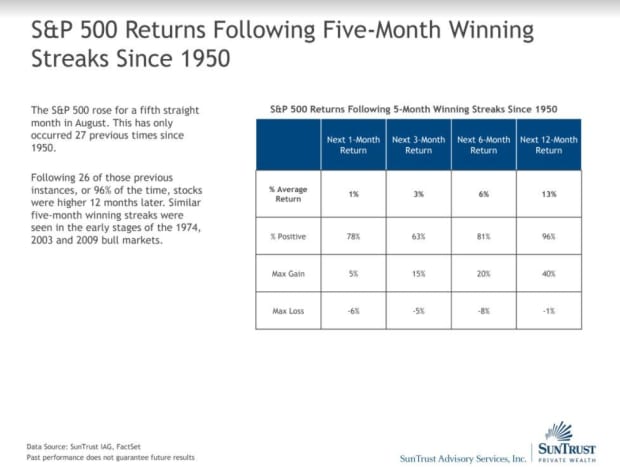 So, investors may view this retreat as a natural corrective phase that removes some of the euphoric froth from equity valuations that had far exceeded the metrics that pragmatic investors use to assess an asset's value compared against its peers.
MarketWatch's William Watts wrote last Thursday, citing Dan Suzuki, deputy chief investment officer at Richard Bernstein Advisors, that technology stocks — particularly, a cohort that includes Facebook
FB,
-0.55%,
Amazon.com
AMZN,
-1.85%,
Netflix
NFLX,
+0.28%,
Microsoft
MSFT,
-0.65%,
Apple
AAPL,
-1.31%
and Google parent Alphabet
GOOGL,
-0.67%
GOOG,
-0.73%
(or FANMAG) — had seen their valuations rise by dint of multiple expansion, or rapidly rising prices, while other segments of the market had seen earnings estimates fall out of whack with their prices, distorting the…


Read More: Here's why the stock market tumbled last week and what's ahead for Wall Street