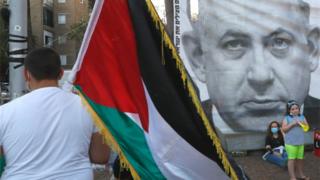 Israel's Prime Minister Benjamin Netanyahu could annex parts of the occupied West Bank this summer. He says the move, stemming from US President Donald Trump's peace plan, will write another "glorious chapter in the history of Zionism".
The Palestinians are defiant. They say they are pulling out of previous agreements, risking their own fragile governing authority. To them, the move means the loss of vital land for a future state and a death blow to dreams of self-determination.
Much of the global community looks on with growing concern over what they see as a clear violation of international law, while warnings echo of a "hot summer" of boiling tensions.
How is the groundwork being laid ahead of what is potentially one of the most significant policy moves in the region in years?
'Do it right!'
My journey starts along the main highway heading south out of Jerusalem.
The road is named after Menachem Begin, the former Jewish militant leader who became Israel's sixth prime minister. He is an icon of right-wing nationalism, founding the movement that later merged to become Likud – the party now led by Benjamin Netanyahu.
The highway ramp dips past a 12-storey building covered in a giant poster of Mr Netanyahu and President Trump. "No to a Palestinian state!" it proclaims in Hebrew. "Sovereignty – do it right!"
It's a message for, not by, the current Israeli and US leaders. It's from a group of mayors of Jewish settlements in the West Bank – the territory they see as their Biblical heartland.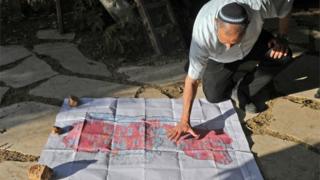 The mayors want to claim Israeli sovereignty over more than the 30% of the West Bank that is on the table from Mr Trump. With Mr Netanyahu soon able to bring proposals to his cabinet or parliament to "apply Israeli law" to parts of the territory, the mayors are giving him a headache from his political right.
It's a sign of how the argument has shifted in Israel over the years.
I drive on, leaving the Begin Highway behind, passing a military checkpoint and joining a smaller road that winds its way into the West Bank, home to up to three million Palestinians, and to almost half a million Israelis living in settlements.
'My peach is not Trump's to give'
Among grapevines and olive trees, Mohammed Yehya Ayer shows me his land.
We're on a…


Read More: Israel annexation: New border plans leave Palestinians in despair